Installers of Longspan Shelving / Racking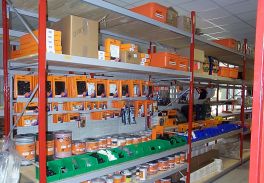 Longspan Shelving is a versatile medium or heavy duty storage system, it is also sometimes called Longspan Racking instead as just like pallet racking etc it comprises of beams and frames, whereas shelving more often comprises of uprights and metal shelves.
Whether you're planning a simple low-rise medium duty shelving system or a large scale heavy duty storage facility with multiple levels / floors in the height with staircases, handrails and loading areas ESE Projects has the experience to design and build a Link 51 Longspan shelving solution to meet your needs.
Alternatively if you would rather use another Longspan or Widespan shelving manufacturers product such as Apex longspan, Dexion shelving, Linvar racking, Metalrax Widespan, SSI Schaefer Regal etc, we will happily provide a quotation to supply and install longspan racking based on their products instead.
Benefits of Longspan Racking / Shelving
Longspan or Widespan shelving as it is sometimes called by definition provides wide or long clear entry to each shelf level, which is ideal for use with long, heavy or awkward loads.
Bolt-free construction for simple, rapid assembly and adjustment
Beam capacities upto 786kg uniformly distributed load (UDL) per shelf level and sizes ranging from 1.05m to 3m long in 150mm increments
Beams quickly adjustable on 50mm pitch, with positive location of beams in frames using locking clips for added security
Shelf levels accept drop in steel shelf panels or chipboard decking
Frames available open or clad in 450mm - 600mm - 750mm - 900mm - 1m - 1.2m depths and heights from 1.2m high to 4.05m high in 300mm increments
Clip on Footplates or Bolt down footplates available to suit frame uses
Large range of accessories and options available to enable a system to be designed to suit your needs
Longspan Shelving Specification
Longspan racking gives you the choice of a wide range of factory riveted ready assembled frames and steel beams to suit all medium to heavy duty loading requirements and a variety of different shelving materials such as chipboard, timber or galvanised shelf panels / profile panels, which, together with optional lateral dividers and side mesh panels, can be used to create custom built storage solutions to suit almost any application. We can even build bespoke spigots, louvre panels, pegboards, cable reel holders and other items into the racking systems for builders merchants and trade / retail stores areas as point of sale racks.
From simple stand-alone starter and extension shelf units to automated order-picking installations and multi tier structures, Longspan racking gives the same reliability, quality and performance for automotive components, building products, long items, bearings, archive storage, stationery, museum artifacts, even geological samples - these and hundreds of other items can be safely stored in longspan shelving schemes designed and installed by ESE Projects.